JUKI released new product "Kirei HZL-NX7" Realized upgraded comfort, operability and sewing quality for experienced users and Quilters.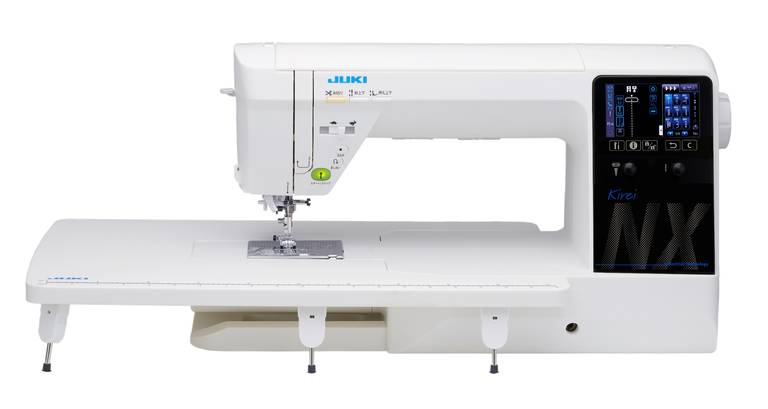 JUKI is going to launch its high-end household computerized sewing machine "Kirei HZL-NX7" to the entire world in sequence from July, 2018. This latest model demonstrates improved comfort of sewing, operability and seam quality.
JUKI has been offering a broad range of products intended for the customers who fully enjoy sewing at home such as those who are skilled at sewing and quilting. The new product "Kirei HZL-NX7" provides improved functions in addition to the performance of the existing HZL-DX Series (our high-end models) to allow the customers to further enjoy sewing.
"Kirei HZL-NX7" has the wider space right side of the needle by increasing the width by approximately 50 % (width: 12 inches) as compared with that of the DX Series. Wider space allows the customer to comfortably sew large-sized pieces of work.
Moreover, thread tension and presser foot pressure that control "sewing performance" are digitalized and can be set on the LCD touch panel. As a result of this improvement, optimum settings for sewing can be established with ease according to the type of material and sewing patterns, and those settings can be stored in memory. In the case of sewing various pieces of work simultaneously, the user is able to carry out sewing smoothly by calling the relevant settings for each piece of work.
"Kirei HZL-NX7" is JUKI's first household sewing machine that is provided with the dual feed function ("JUKI Smart Feed"). In addition, it is the JUKI's first home sewing machine that comes with the one-touch utility mechanism for changing the standard throat plate and feed dog to those designed for straight stich.
"Kirei HZL-NX7" with the catch phrase "New Generation" has the pet name "Kirei" (means "beautiful" in Japanese). JUKI is happy to assist the customers who enjoy sewing at home with this comfortable-to-use "Kirei HZL-NX7" which demonstrates state-of-the-art controllability and operability. We hope that this new model would be a partner of the users in demonstrating their creativity and artistic taste.
New functions
1. Improved comfort of producing pieces of work
| | |
| --- | --- |
| ①12-inch wide space from machine arm to needle | The width of the space from machine arm to needle is increased to 12 inches (8 inches for the DX Series) |
| ②JUKI Smart Feed | Built-in-type dual feed function. It helps prevent light-weight materials from slipping during sewing as well as stitch jamming that is likely to occur when sewing heavy-weight materials. |
| ③Easy change to the exclusive parts for linear sewing | The throat plate, feed dog and presser foot can be changed to those specifically designed for linear sewing with simple one-touch operation. The specific parts for linear sewing prevent the material from being caught in the needle hole at the beginning of sewing. They also ensure neat finish of the material edges and curve seams. |
| ④Foot switch (pedal) that allows change in lateral position of the right and left pedals | The pedal for "sewing" and pedal for "thread trimming" are separated from each other. The lateral position of the pedals can be changed. |
| ⑤Micro-lifter function | This function lifts the presser foot by a minute amount during sewing. It helps prevent uneven material feeding. The lift of the micro-lifter can be set with more ease. |
| ⑥Automatic lowering of the feed dog when lifting the presser foot | The feed dog comes down automatically when the presser foot is brought to its upper position. With this function, the material can be placed on and removed from the sewing machine smoothly without damaging the material. |
| ⑦Bobbin thread counter | The bobbin thread counter lights up in red when the remaining amount of bobbin thread has reduced to 20 % or less of its capacity. |
2. Digitalization achieves improved operability and seam quality
| | |
| --- | --- |
| ①Color LCD touch panel | Color LCD touch panel that provides improved operability such as that achieved by smartphones is adopted. |
| ②Digitalized control of seams | Thread tension and presser foot pressure are digitalized. As a result, settings for sewing can be established with more ease according to the material, and the set values can be stored in memory. |
| ③Electronic thread tension | Thread tension is automatically set according to the "pattern". |
| ④User memory | Ten different combinations of patterns and the settings for them can be stored in memory. |
| ⑤351 stitch patterns | The number of applicable patterns is increased. Furthermore, flip horizontal and flip vertical of patterns are possible. |
Specifications
Outside dimensions
575mm (width) x 310 mm (height) x 240 mm (depth)
Weight
14.8 kg
Maximum sewing speed
1,050 sti/min
Number of patterns
351 patterns
Foot controller
Equipped as standard

(provided with the separate foot switch function)

Knee lifting lever
Equipped as standard

(Electronic knee-lifter control mechanism)

Wide table
Equipped as standard
Launch date